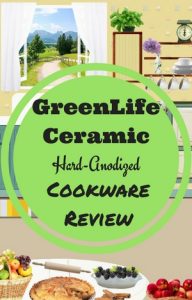 This review is of the GreenLife Gourmet Hard Anodized Ceramic Cookware set (CW0004971). I came across the set online and noticed that there were a lot of great comments by users of the set. Some had even mentioned that the pans were performing well even after 3 years or more. Of course, as with any product there were also some negative viewpoints as well, but it seemed they were far fewer than some of the other sets in this price range. I decided to do some research on this cookware to see what might be different with this set. Read on to learn more.
GreenLife Ceramic Cookware Set Features
This 12 piece GreenLife Healthy Gourmet Non-Stick Cookware Set has quite a nice variety of pieces. The pieces are a bit on the small side, as is typical with many cookware sets. The largest size frying pan is 9.5". Larger, similar pieces are available from Green Life, although not in this particular line. The interior of the pans are light gray, and the exterior is a darker gray, an attractive combination which would compliment just about any kitchen décor. There are 6 pots/pans, and 4 glass lids—2 of the lids will also fit each of the 2 smaller fry pans, so each pan has a lid that fits. (Nice to not have to hunt around for a lid to fit the frying pans.)
The set includes:
• 4.8 Qt Stockpot with lid
• 2.6 Qt / 9.5" Skillet with lid
• 2 Qt Saucepan with lid
• 1 Qt Saucepan with lid
• 9.5" Frying pan
• 7" Frying pan
• 2 Plastic Utensils (Spatula, Ladle)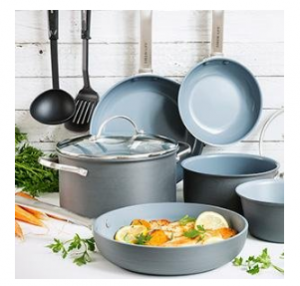 Construction
This GreenLife Gourmet Cookware Set is 100% non-toxic, oven safe, but NOT dishwasher safe.
As I was doing my research for this review, I checked further into the GreenLife Company and I found they're actually a brand owned by a parent company called The Cookware Company, which is a global cookware manufacturer with worldwide brand presence. They started in Belgium in 2007 with their original brand, GreenPan. The parent company has continued to focus on cookware products and has introduced many other brands throughout the years. They were actually the first to introduce PTFE –free non-stick cookware into the market. GreenLife has been around since at least 2012. The cookware is manufactured by a company in Hong Kong, called Anotech International, a world-wide enterprise in research, and manufacturing of products.
Exterior
The Greenlife Healthy Gourmet pots and pans have a dark grey exterior and are constructed with a thick, hard anodized aluminum body for extra strength, stability and durability. Hard anodized aluminum is actually twice as hard as stainless steel, but still keeps the excellent heat conduction properties of aluminum, with great cooking results. The food cooks evenly and quickly at lower temps and browns nicely. The pans are a little heavier than regular aluminum based, and they have a solid, sturdy feel.
When cookware is anodized, it is taken through an electrochemical process that converts the metal surface into a durable, corrosion-resistant, anodic oxide finish. Although, extra durable, these cannot go into the dishwasher because the the anodized finish will break down when exposed to the caustic soda in the dishwasher detergent, causing the finish to discolor and stain.
The bottom surface of the pans are flat and have the same grey finish as the sides. Since the bottom isn't grooved, it's especially nice for use on smooth cooktops and won't scratch like some of the spiral-grooved bottom pans will.
Interior
The interior of this GreenLife Gourmet set is an attractive light grey color which contrasts really nice with the dark gray exterior. It's coated with a 100% safe patented non-toxic, non-stick durable ceramic coating called Thermolon. The GreenLife Company explains the technology as a base that suspends the ceramic materials and forms them into a special solution that gels together resulting in an extra durable matrix bond. (Wow, that was a mouthful, but you can find more information on their website.)
The special feature of Thermolon is that it is a better heat conductor than traditional ceramic coatings, giving great cooking performance using lower heat settings. This results in ideal searing while still providing excellent, crisp frying results. It's also claimed to be more scratch-resistant than regular ceramic coating, very non-stick and a breeze to clean as well.
The Thermolon coating is also healthy and 100% safe since it is manufactured without lead or cadmium, and no PFAS and PFOA . PFAS and PFOA are harmful man-made chemicals that can be found in non-stick cookware made with teflon and can be hazardous to your health, especially while cooking at higher temperatures.
With all that said, I do want to mention that there are rivets in the pan attaching the handles that are not coated with the Thermolon. They appear to be stainless steel, but are not non-stick. You'll have to take extra care to clean around the crevices of the rivets.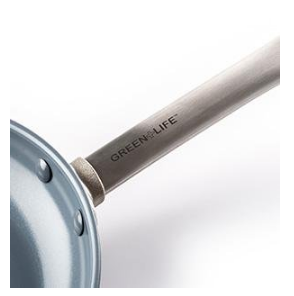 Handles
The handles on the pots and pans are stainless steel, which is great if you want to use them in the oven with no concerns about the handles melting. They have an attractive matte finish and have a hole at the end for hanging. The handles are attached with rivets, so no worries about them becoming loose. And they're designed ergonomically, so they're comfortable to hold on to. However, the handles do get warm and can get very hot near the end where they're connected to the pan. The lid handles also get hot so be sure to use a potholder.
Lids
The lids are made with clear tempered glass and have a riveted stainless steel handle. I like that the lids are clear, so you can see how your food is progressing. These lids do NOT have a steam vent hole, however. I know many folks prefer lids with the steam vents to help prevent any bubbling over, so this is something to consider while choosing your cookware set. The set comes with 4 lids— one for the stockpot, the skillet, and the two saucepans. The two frying pans don't have their own lid, but other lids from the set will fit each of the frying pans.
The metal handles on the lids will get hot so you'll need to use a pot holder.
Oven / Range Compatibility
These pots and pans can be used on gas stoves, all electric stove tops, glass and ceramic cooktops, but NOT on induction (induction requires either cast iron or stainless steel; aluminum will not work.
The pots and pans should be used with medium to medium-low heat unless you're boiling water or searing meat. Other foods will burn using higher temperatures, since the excellent heat conductivity of both the exterior and interior surfaces works great at low temperatures. High heat can also result in damage to the pans as well as lose the non-stick properties.
According to the manufacturer, the pans are oven safe to 600 degrees, and the lids to 428 degrees. (Personally, I would not put glass lids in the oven using that high of a temperature, even if tempered.)Using these pans in the broiler is not recommended.
Performance
The majority of the users of this GreenLife cookware are very pleased with this set. I noticed on a couple of the online reviews that a few folks had been using them for 3-4 years, and the pans were still performing well. These do seem to last a little longer than other ceramic coated cookware I've reviewed and also have fewer complaints.
The company gives a very detailed set of instructions for care and use, and by following those, I wonder if this could be why the set holds up better for most users.
One of the biggest issues I've seen though with this cookware is that the exterior surface coating tends to wear. These are not dishwasher safe and the harsh detergents can cause fading and staining to the outside. Some have mentioned that a chalky substance even forms on the bottom when washing (even with hand-washing). It could be that a harsher dish soap was used or higher cooking temperatures were used.
Also, some users said that the surface started sticking and peeling after a few weeks, but of course we don't know if the pans were misused or how the user is cleaning the pans or following the cooking instructions. According to the manufacturer, when you do not use fat, food will carbonize much quicker, resulting in uneven cooking and will likely end up sticking to your pan. This will cause a loss of non-stick capabilities, even when using fats later on. In addition, some oils like extra virgin olive oil and food sprays will cause carbonization and build up on the surface of the Thermolon and this might be making these pans seem to stick when they shouldn't. The company recommends using fats with high smoke-points (the temperature at which the fats start to carbonize) such as refined olive oil, corn oil, peanut oil and clarified butter. The majority of consumers were very satisfied with their purchase and love the pans. They said they simply followed the instructions and did not experience any issues with either the exterior or the interior performance.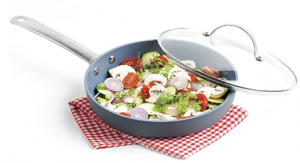 Clean up / Care
The pans are very non-stick which makes cleanup a breeze. All that's needed is a soft sponge or cloth with a gentle detergent. The pans should always be allowed to cool before washing, otherwise damage can be caused to the finish and the pans could start to warp.
The instructions state that the pans are NOT to be used in the dishwasher. There are many factors that can ruin the pots-the dishwasher detergents are very harsh on the hard anodized exterior surface and will discolor them, and the strong pressure of the sprayer can damage them well, not to mention the hot water and the dryer. They're so easy to clean anyway that the dishwasher shouldn't be much of an issue.
One thing I like about the Green Life Company is that they give very detailed instructions on the use and care. Some companies only give a sentence or two regarding the care and I can't help but wonder, that if the instructions were more detailed there would be far less issues. Ceramic cookware is a little different to cook with and some adjustments have to be made.
Metal utensils are not to be used-only nylon, plastic or bamboo is recommended. (The set comes with two plastic utensils.)
With most ceramic coated cookware, the manufacturer recommends not using any sprays, oils or butter. While GreenLife states not to use cooking sprays, they do say that a little butter or oil should be used rather than cooking without. (Except extra virgin olive oil, as it does not withstand heat well and can cause a build-up on the coating, causing it to become less non-stick. Refined olive oil is fine.) And as with all ceramic coated pots and pans, medium heat or lower should be used. I personally believe that many of the issues regarding non-stick pans are caused by cooking at high temperatures. Bottom line-avoid high heat, read and follow all the instructions and the pans should last a long time.
Warranty
GreenLife offers a 2 year warranty for material or workmanship defects of their products and the non-stick coating under normal home use. Any damage caused by misuse or overheating is excluded from the warranty. The warranty does not cover any stains, discoloration, or scratches due to normal wear and tear. Although, according to the customer rep I spoke with, if the handle becomes damaged during normal use or a pan becomes warped, they will replace it free of shipping charges.
Pros
• Non-toxic safe ceramic surface –healthy cooking
• Non-stick, cleans up quick and easy
• Good variety of pans
• Interchangeable lids – there's a lid size to fit all pans
• Oven safe ergonomic stainless steel handles
• Seems to last longer than other ceramic cookware sets in this price range
• Extra durable hard anodized exterior
Cons
• Not dishwasher safe
• Not a larger size frying pan – largest size is 9.5"-other pans also relatively small
• No other pieces available to purchase in this specific line, although GreenLife does carry larger pieces in their other ceramic lines
• Handles get hot
• Exterior finish wears off
GreenLife Gourmet Healthy Ceramic Cookware Consumer Ratings
The online reviews for this product have a strong positive rating for the most part. Most of the consumers are very happy with their purchase and feel it lives up to their expectations. A few consumers have said that they've had this set for 3-4 years and have not experienced any issues at all.There are some negative ratings and the main issue seems to be that the exterior tends to discolor and fade, even when washing by hand. This could possibly be from using harsh detergents or perhaps from cooking with high heat. There were also a few folks that had problems with the non-stick finish becoming not so non-stick after a few weeks.
One thing folks also mentioned is that they wished the set came with a bigger frying pan. The biggest one is 9.5" and it would be nice if a 12" size was included. The other pans are a little on the small side as well. This does seem to be typical of a lot of cookware sets in general.
I would rate this product 4.4 stars overall. The set is attractively designed, it's strong and durable and I believe with proper care, the pieces will last several years.
GreenLife Non-Stick Ceramic Hard Anodized Cookware Set Price
The price of this Green Life set typically ranges between $79-$100 online. You do receive a nice variety of durable pans that should last a long time if they're well taken care of. Generally, these pots and pans seem to last longer than other similar ceramic sets in this same price range. Some of the pieces are smaller in size, though, but that seems to be the case with many cookware sets in this price range. In my opinion, because of the smaller size pieces, this set would be great for someone just starting out on their own, or someone cooking for one or two. At this time there are no larger pans sold separately in this particular line, but GreenLife does have some available as a single purchase in similar lines. If you're cooking for more than 2 people, this set may not be a good fit for you, but you may want to check into some of the larger sets by GreenLife.