When I saw the WearEver Pure Living C943SF Ceramic Coating Cookware Set online and noticed what a nice large set it is (15 pieces!) for the price, I wanted to do some more research on it and see whom it would best benefit. In my review, I discuss my findings from the manufacturer, as well as weigh the consumer thoughts and ratings. As with many ceramic coated pots and pans, it seems that folks love the product, and others, not so much. Read ahead to find out more.
WearEver Pure Living Features
This 15 piece WearEver C943SF Non-stick Cookware set includes a great variety of usable pans, including a larger 12" frying pan and 3qt sauce pan, which seems to be not all that common in cookware sets of this price range. The larger pan sizes in this set work well if you're cooking for a family. The pans are attractively designed in red (more of a darker cherry or crimson color rather than a bright red) with a snow white interior, and red silicone ergonomic handles. There are 8 pots/pans, and 6 glass interchangeable lids with two of the lids fitting each of the two smallest fry pans as well.
The 15 piece set includes:
• 5 Qt Dutch oven with lid (9.5 in x 4.5 in)
• 3.5 Qt Sauté pan with lid (10.25 in x 3 in)
• 3 Qt Saucepan with lid (8 in x 3.75 in)
• 2 Qt Saucepan with lid (7.25 in x 3 in)
• 1 Qt Saucepan with lid (6.5 in x 3 in)
• 12" Frying pan with lid ( 12 in x 2.25 in)
• 10" Frying Pan (10.5 in x 1.75 in)
• 8" Frying Pan (8 .25 in x 1.5 in)
• Stainless steel steamer insert
Construction
The Pure Living Ceramic Coated Cookware Set is 100% non-toxic, oven safe and dishwasher safe. Although the product is engineered/designed in the US, it is manufactured in China (as most other popular cookware brands are). The pans are medium lightweight, but they're not flimsy. They're sturdy and have a solid feel.
• Exterior
The body of the pots and pans is constructed with a high quality 1/8 inch aluminum base. Aluminum has excellent heat conduction properties, allowing food to be cooked evenly and at lower temperatures with great results.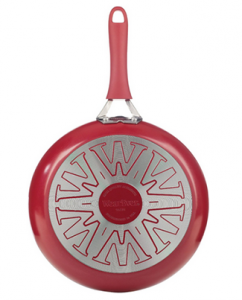 The bottom of the pans is bordered and ridged with WearEver's 'W' letter logo. These ridged grooves reinforce the pan's heat conduction and help to resist warping. While that's a nice feature, if you're cooking on a smooth or glass cooktop, be sure to be careful and not slide the pots/pans across the surface to avoid any scratching. The center of the bottom is red, but according to several user reviews, the red paint won't rub off and stain the cooktop.
• Interior
The interior of the WearEver C943SF set is coated with a snow-white 100% safe non-toxic, and non-stick ceramic coating. According to the manufacturer, it is stain and scratch resistant as well. There's no harmful toxic chemicals being released such as PTFE and PFOA and contains no lead or cadmium as well. PTFE and PFOA are toxic chemicals that are found in some non-stick cookware surfaces made with Teflon. These fumes can be harmful not only to your health, but to your living environment as well, after a period of time.
I do want to mention that although the ceramic surface is non-stick, the rivets inside the pan attaching the handle are not ceramic. They're stainless steel, so that means food can stick there, especially around the crevices. Be sure to watch that area and clean around the crevices to prevent any build-up.
• Handles
The handles on the WearEver Pure Living Cookware line are made with a soft-touch, well-insulated silicone. I really like that they're ergonomic too, which is so nice for lifting, especially if you cook often. The handles are red like the body and have a hole at the end if you like to hang your pots. As mentioned above, the handles are attached with rivets so you don't have to worry about them unscrewing and getting loose. The lid handles are metal with the red silicone grip covering the top and part of the side of the handle. The exposed metal on the side can get really hot though, so be sure to be extra careful when lifting the lids.
• Lids
The lids are tempered clear glass and are vented, which many folks find is a great feature for simmering soups, spaghetti sauces, chili, and especially for rice.The vent hole allows steam to escape, preventing the liquid from bubbling over. This is important because if there's too much steam the vent will release just the right amount so your rice won't be soggy. The vent also keeps the temperature of your food steady while poaching or simmering. For many consumers, having the vent on the lid is a deciding factor on which cookware they choose to purchase.
The set comes with 6 lids — one for the Dutch oven, the sauté pan, and the three saucepans. The 8 and 10 inch frying pans do not come with their own lid, but the lids from the other pieces are interchangeable so you'll find that two of them will also fit the frypans. The tempered glass lids are oven safe up to 350 degrees Fahrenheit.
Oven / Range Compatibility
The Pure Living Ceramic Cookware set can be used on all gas and electric ranges and cooktops, EXCEPT induction (induction requires cast iron or stainless steel; aluminum won't work.
Cooktop heat should be no higher than medium, and actually medium to medium-low heat is recommended because of the excellent heat conductivity of both the aluminum and the ceramic. If using higher temps the food can burn and the pan coating may become less effective and start to stain. It may also cause the pan to warp. You can boil water or sear meats at higher temps however; that's no problem.
The pots and pans are oven safe up to 350 degrees with the lids on, and up to 500 degrees without the lids. (350 degrees seems to be sufficient for most casseroles and meat dishes.) The oven should be completely preheated before putting the pan in, otherwise the thermal shock can cause damage. Broiler use is not recommended. The directions also state that the cookware should not be used on an outdoor grill.
Performance
According to online reviews, the majority of consumers who purchased the WearEver Pure Living Ceramic Cookware set have been pleased with the performance. They're happy with how non-stick the ceramic really is and how fast and evenly the food cooks at the lower temperatures. Some have mentioned how fun it is to cook with the pots and pans. Many users have commented that the instructions must be followed though, to maintain long life of the cookware.
The instructions do state to season the pans first before using, and then periodically after that. (Many of the folks commented that they've used coconut oil to season the cookware, and say it works great). The company also recommends using a little oil or butter when frying to prolong the non-stick surface. There are some folks who have had good success with the pans even after 2 years by taking care to season the pans and by following the guidelines in the use and care manual.
There are some negative comments online though, mentioning that the ceramic surface comes off after time, and in some cases, just after a month or so. Also, many have mentioned that the ceramic finish can scratch easily, even when not using metal utensils. (In my opinion, silicone utensils are the best to use with ceramic pans. They're softer than nylon or bamboo which is often recommended, but from experience, I know that even nylon and bamboo can scratch a ceramic surface.)
With that said, I've noticed that with just about any ceramic cookware set; high-end or not, there seems to be some that absolutely love the product, and others that have the opposite viewpoint. It's hard to know why there's such disparity, and if the care instructions were followed by all.
Clean up / Care
According to the WearEver Cookware Company, cleanup should be quick and easy, especially if the pans have been seasoned. They can be used in the dishwasher, but really it's just as easy to clean them in the sink using mild dish soap in hot water and a gentle cloth or sponge. Even though dishwasher safe, I personally wouldn't use the dishwasher for any ceramic coated pans as the detergent can be quite harsh on the finish and can cause it to lose its non-stick performance. They can also become scratched easily in the dishwasher. If you do hand wash these, be sure to dry them right away, as that helps to further protect the surface.
And as with all ceramic pots and pans, they should be completely cooled off before washing, otherwise the thermal shock can cause damage to the pan, eventually causing the ceramic finish to separate from the aluminum base, as well as warping to occur. The WearEver Company recommends that the pans are seasoned before the first use, and occasionally afterwards. As mentioned above, many folks use coconut oil, saying it's the best oil to season pans with. You can do this by heating the pan until it's hot and then rub with coconut oil using a paper towel, then letting it sit for about five minutes. WearEver also recommends using a little butter or oil and they even recommend the use of cooking spray, unlike most other ceramic cookware brands.
Another thing to remember about ceramic cookware is to never heat the pans using higher than medium heat, because the heat is conducted so well. Higher heat can cause damage to the pans. Also, when stacking the pans for storage, be sure to use a paper towel, a cloth, or even the circular cardboard packing material of the set to help protect the surface.
As you can tell, cooking with ceramic pots/pans is a little different than what you may be used to. Similar to cast iron, they do have to be 'babied' a little. But the benefits of using non-toxic cookware are far worth the extra care.
Warranty
WearEver offers a lifetime warranty covering manufacturer defects only. It doesn't cover damage due to overheating, non-recommended oven use, staining, discoloration, or scratching to the interior or exterior. If WearEver determines that a product is defective they'll either repair or replace the item at their option without charge to the customer, including return shipping cost.
Pros
• Non-toxic 100% safe ceramic surface for healthy cooking
• Non-stick-cleans up quick and easy
• Good variety of durable pans, including some larger pieces
• Medium lightweight with a solid feel
• Interchangeable lids so there's a lid size to fit all pans
• Oven safe ergonomic silicone handles
Cons
• Some consumer complaints of the exterior finish wearing off sooner than expected
• Prone to scratch more easily
• Some user complaints of the ceramic losing the coating after time
• Foods can eventually start to stick
• No other color choices for this set
WearEver Pure Living Ceramic Cookware Consumer Ratings
The average online rating for the Pure Life cookware is fairly high with positive reviews. I would give it a 4.2 star rating. Many folks are very satisfied with their purchase and have said that the pans still work great even after 2 years. They're also thrilled to have found an attractive set with such a nice variety of pans, including the larger 12 inch pan and a large saucepan. Some have wished that the set was available in other color choices besides the red, but for now, red is the only color option.
The biggest complaint I've seen is that the interior ceramic finish tends to scratch easily, so you may have to take extra care to avoid scratching by using silicone utensils and by stacking the pans carefully during storage. There are also some folks that had trouble with the ceramic coating coming off and food starting to stick. It's hard to know why some experience great results and others do not. It could be a combination of many factors including temperatures used, how they were cleaned, and whether the pans were seasoned or not.
All in all, I believe this set will last a good while as long as the instructions are carefully followed.
WearEver C943SF Pure Living Cookware Price
In comparing this to others in the same price range, you really do receive a great value for the price. Although this 15 piece Pure Living set is more expensive than many, it's for a good reason. They look beautiful, and the set includes a wide variety of durable pieces. Best of all it includes a 12 inch frying pan, which is fairly uncommon to see in cookware sets around this price range. It also includes a 3 qt saucepan which is nice if you need to heat up a couple cans of soup or leftovers. The Dutch oven is a good size too and will work well for stews, chili, and spaghetti sauce. To me, it's worth the extra money to have these larger pieces already included and to have a complete matching set. These pieces aren't sold separately in the Pure Living line.
Another great bonus to this set is that since all the lids are interchangeable and will accommodate all the pans, you don't have to spend more money on additional lids .. This set would be a great choice if you're cooking for more than two or even for a family and need a sturdy, durable set with bigger pieces to work with. It's also great for the single person just starting out with their own apartment and who likes to entertain a bit. And of course, the set would also make for a wonderful wedding gift.
Occasionally, Amazon offers a coupon discount on this 15 piece set and as of this writing, there's a $10.00 off coupon. The Pure Living line is also available in a smaller 10-piece set (WearEver C943SA) in the same color with fewer pans but with a couple plastic utensils added in. This would be great as a starter set for someone only cooking for one or two, a young family, or for someone that doesn't cook all that often but would still like to have a small set on hand for occasional use.