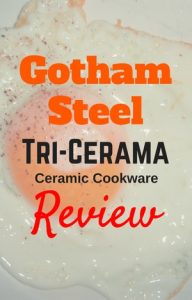 Like me, you've probably seen one of the commercials or the late night infomercial on the Gotham Steel Tri-Cerama Cookware Set. My interest was quite peaked after watching, so I decided to do some research and write a review on the product. I was amazed at how so many can love this cookware and so many can call it junk; how it performs as advertised on one spectrum, and at the other, it totally didn't live up to the expectations, winding up with disappointed consumers. Read on to find out more about this set, and my own experience as well!
Gotham Steel Cookware Set Features
This set looks pretty with its copper color and dark gray exterior, and will compliment just about any kitchen color theme. It has a variety of useful pieces, although they are a little on the small side. There are 5 pans; 4 have matching lids, but there's no lid to fit the smallest fry pan.
The 10-piece set includes:
• 5 Quart Dutch oven with lid
• 9.5" Fry pan with lid
• 8.5" Fry pan
• 2.5 Quart saucepan with lid
• 1.5 Quart saucepan with lid
• Aluminum steamer insert for the Dutch oven
The pots and pans are lightweight but yet are sturdy and very durable. According to the manufacturer, they are dishwasher safe, oven safe (up to 500 degrees), scratch resistant (even with using metal utensils), non-stick, and super easy to clean. Note: This cookware is NOT suitable for an induction cooktop. The pans are made with an aluminum base, ceramic and titanium interior, with stainless steel handles. They are manufactured in China, as most other brands are.
Construction
Exterior
The pots and pans are constructed with an aluminum base about 1/8 inch thick, and are quite sturdy and durable, although lightweight. The aluminum provides fast and even heating for great cooking results even at low temperatures. The pans sit flat and even on the cooktop so your food will stay centered and they also won't swivel around on coiled or gas burners while stirring the food.
The rims are aluminum, and though it would be nice if they were stainless steel to prevent chipping at the top, I haven't actually seen complaints specifically about the top edge chipping, so that may be a non-issue.
The bottoms of the pans are a dark grey with a raw aluminum spiral grooved ring, which the manufacturer calls a "scratch guard ring". This ring is to distribute heat evenly and to cook food thoroughly. The ring isn't smooth, so I would still take caution when using on a ceramic or glass cooktop, especially if you like to shake the pan back and forth. Many have said that even though the exterior is aluminum, the pans seem to cook like cast iron. I suspect it has something to do with the titanium/ceramic coating.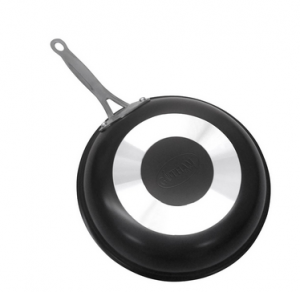 Interior
According to the manufacturer, the interior is coated with a 100% safe high-grade sophisticated ceramic reinforced with titanium (Ti-Cerama) . The titanium provides extra strength and insures ultra maximum durability, is very non-stick, and is resistant to scratching, even with metal utensils. I'm not sure it's as resistant to scratching as it claims to be but more on that later…)
The Ti-Cerama surface is safe with no toxic chemicals — it's PTFE, PFOA, and PFOS free. PTFE is actually the man made chemical called Teflon. Studies have shown that the toxins released from PTFE while cooking at higher temperatures can be hazardous to one's health. PFOA and PFOS are also man-made chemicals used in some cookware to prevent sticking and stains. These chemicals can remain in the environment and, unfortunately in humans and cause all sorts of health issues. Ceramic does not emit unhealthy chemicals and toxins even at high temperatures, and research shows that titanium is also safe for health and is similar to the substance of a cast iron frying.
One thing to note: the rivets in the pan to connect the handles appear to be stainless steel, but they are definitely not non-stick and can be hard to clean. Taking a toothpick around the crevices when washing will help keep the rivets clean.
Handles
The handles on the pans and lids are stainless steel, therefore no problems with using in the oven, which is great. However, there are numerous complaints online about the frying pan and sauce pan handles regarding two issues. The main complaint is that the handle on the frying pans and sauce pots are thin and mostly flat; making it uncomfortable to lift especially when the pan is full of food. If you spend a lot of time cooking and lift the pan or shake it, it can be hard on your wrist.
The second issue is that the handles get extremely hot—both on the pans and the lids. This is especially problematic with the long handles used on gas stove. The instructions do note to use potholders, but make sure you've got the pot holder wrapped securely around the handle.
Lids
The lids are made with clear tempered glass and have a stainless steel handle that is riveted on. The cookware set comes with 4 lids; one for the Dutch oven, the 2 saucepans and the larger fry pan. The tempered glass is really nice to cook with so you can quickly keep an eye on your food. The lids each have a vent hole to allow the steam to escape which is a nice feature to have as it helps to prevent bubbling over when boiling.
Oven / Range Compatibility
The cookware can be used on all cooktops EXCEPT induction, as they require either cast iron or a stainless steel material. A magnet does not stick to the bottom (a test to prove whether induction safe or not –if a magnet does not stick, the pan is not induction safe.)
Foods should be cooked on the stovetop with medium-low heat, unless you're searing meat or boiling your food. Higher temps are fine for that. But other foods will burn using higher temps and that can cause damage to the pan and lose the non-stick performance. The pans do provide great heat conductivity at lower temperatures.
The instructions state that the cookware can be used in the oven up to 500 degrees. Many folks have said that they've had great results with their baked dishes; the food tastes great and the baked pans clean easily. The handles are stainless steel, so no concerns about handles melting. There's no mention in the instructions about using the pans in a broiler, but I'm assuming since they're safe to 500 degrees, that should be no problem.
Performance
There are many who say this cookware is absolutely fantastic, but at the same time there are lots of complaints regarding the performance of these pans. It amazes me that there's such a difference of opinion.
For those that love it, they say the pots and pans are incredibly non-stick, and that most foods will slide out of the pan. They've found that meat does a great job searing, and other foods cook quickly at low temperatures. They've tested caramel, marshmallows and other sweets also with great success. Baked foods turn out great too. The pans clean up with hardly any effort, and the surface truly is scratch-resistant. These folks have said that they do follow the manufacturer guidelines for cooking and for cleaning. It's unknown though, how long the majority of these folks have used the cookware, and if the performance is less than top-notch over time.
There are a significant number of reviews online though that are not so positive… in fact, quite negative. Some of the issues are:
• The food sticks, even on the very first use
• The food overcooks and burns into the pan, making it impossible to clean
• The fry pans start to warp after time
• The ceramic finish scratches when using metal, even though it's advertised metal can be used; also scratches when using non-metal utensils
• After about 3 weeks, the pans begin to scratch and food sticks
• The pans still need oil to cook
• The pans discolor after searing meat and the stain won't come out
I don't know why there's such variance in the performance of this cookware but if the user instructions which come with the set are not followed and the pans are misused, that would definitely cause a failure in performance. I've also noticed that although some folks did experience problems at first, they did some experimenting with different heat settings and methods and found techniques that started the pans working for them.
My own experience:
I have tested the frying pan from this set, and so far I've had very nice results! The eggs really do slide out with no problem, the pan sears meat wonderfully, it truly is super easy to clean, and no scratching -at least not yet! I'm using an electric range with coil burners, and have kept the heating temp a little lower than medium. I've also used the pan in the oven to bake some chicken, and it turned out great! So far no scratching, but I've only used silicone utensils. I'll continue to update my results here.
UPDATE: It has been two months and the performance is still great! I still continue to be very careful not to overheat the pans, and I have not used metal utensils. I allow the pan to completely cool before I wash it, and I dry it immediately upon washing. I believe that these extra small steps really do help in preserving the life of ceramic cookware in general.
Cleanup / Care
The cookware typically should be a breeze to clean. Just clean with a soft sponge or cloth with warm water and a gentle detergent. These pots are supposed to be dishwasher safe as well, due to the durability of the ceramic/titanium ( Tri-cerama) coating. It's always a good idea with any type of non-stick cookware to let the pans cool before immersing them in water to prolong the surface finish and to prevent any warping.
According to the manufacturer, metal utensils can be used without scratching the surface although I suspect they do have an issue with scratching based on some of the comments.
These pots do not need to be seasoned. The only thing the manufacturer states not to do is use non-stick cooking sprays-these can form a buildup on the surface. The pots and pans are designed to be used without butter or oils, but if you do choose to use butter and oils, they must be used on low heat. Many consumers have mentioned that only a small amount of oils or butter is necessary.
If you do decide to buy this set and want them to last, I would follow the instructions closely, and be extra careful using untensils-the pans can still scratch regardless of what the Gotham Steel Company claims. Some folks went to review the instructions and had found they hadn't completely followed them, regarding temperature settings and caring for the pans. You'll have to baby the pans and you may be better off ignoring the fact that they're supposedly dishwasher safe and hand-wash them, and I definitely wouldn't use metal utensils on them.
Warranty
Gotham Steel does offer a lifetime warranty on their packaging, but their website doesn't mention having a warranty. The site does say that unused cookware can be returned within 90 days. Either way, they want you to send along a check to cover their shipping of the replacement item, plus you have to pay to ship the damaged item to them. Some folks have mentioned that it's difficult reaching the company to issue complaints, and when they finally do, the reps are rude. Others have said that the customer service is very good and will help you with any product issues, including replacing defective items.
Pros
• 100% Non-toxic surface
• Easy to clean
• Good variety of pans in the set
• Lightweight but solid construction
• Durable ceramic and titanium coating
• Dishwasher safe
• Oven safe up to 500 degrees
• Other pieces available to add to the set
Cons
• Not quite as non-stick as other brands
• Scratches more easily than the manufacturer states
• Aside from the Dutch oven, the pans are smaller in size
• Handles are uncomfortable and get extremely hot
• Over time foods may stick, surface may scratch, performance may diminish (could depend on user practices)
• Some users experience problems right from the beginning

Gotham Steel Non-stick Cookware Consumer Ratings
I found the consumer ratings online most interesting for the Gotham Steel Tri-Cerama set—many 5 star reviews but lots of 1 star also. Many have experienced favorable performance with the cookware and love it, saying it works just as advertised. On the other hand, lots of consumers wound up throwing the pans in the trash.
One issue I noticed from both positive and negative ratings is that the stainless steel handles are uncomfortable to hold and also get extremely hot. The negative ratings talked about food sticking to the pans (in some cases even on the first use), and the pans scratching even when using nylon or wooden utensils. Many of the folks that love how the cookware performs mention that they followed the instructions and took very good care of the pieces, resulting in none of the issues others have found.
I'm giving this cookware set a rating of 4.2. Although many folks were disappointed, as it didn't perform as advertised for them, still, they do work great for some users, (and for myself!). Perhaps for the disappointed folks, with a little more experimentation they may find better results.
Gotham Steel Tri-Cerama Cookware Set Price
The price range for this set is quite typical of many other cookware sets of the same size. You do receive a nice variety for the cost but, like I mentioned above, the pieces are smaller in size, more fit as a starter set or for someone cooking for one or two. The nice thing is that you can buy other pieces in this line if you need something bigger, and if you love the performance of the pans and want to grow your set. I hope you found this review helpful!