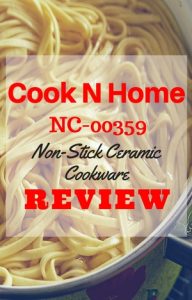 When I saw this Cook N Home NC-00359 Nonstick Ceramic 10-Piece Cookware Set online and noticed it was one of the top selling ceramic pots and pans sets for a surprisingly reasonable price, I was intrigued, so I decided to do some research and review this set. It has a good variety of usable pieces, the color is attractive, the cooking surface is chemical free and the set is also extremely affordable. With that said, I feel these pots and pans are best for short term or casual use. They'll make a nice looking starter kit that will work well for 6 months or so but should plan on being replaced down the road with a more durable set.
Cook N Home Ceramic Cookware Set Features
This set (model number NC-00359) is quite attractive with its bright red exterior and off-white ceramic interior. It's also available in a fun apple green exterior (model number NC-00358) which is quite popular as well. It does have a nice selection of pieces which includes a nice size Dutch oven. There are 6 pans and 4 interchangeable lids which is nice because each of the fry pans has a cover that fits.
The set includes:
5 Qt. covered Dutch oven (9.5 in x 4 ¼ in )
3 Qt. covered casserole (8 in x 3 ½ in)
2 Qt. covered sauce pan (7 1/4 in x 3 1/8 in)
1 Qt. covered sauce pan (6.5 in x 3 1/8 in)
Medium size fry pan-(9.5 in x 2 1/4 in)
Small fry pan-(8 in x 1 ¾ in)
One thing to note is that the pans are smaller in size, although they are deep. For a larger family, the sizes in this probably will not suffice, but would be perfect as a starter set, or cooking for one or two people. Many have commented about the smaller size, and have asked if there are larger pieces sold separately in this line, but upon researching the company (Cook N Home), unfortunately, there are not.
The pots and pans are medium weight, and do feel solid and substantial. Some folks with arthritis have commented that they had no problems lifting the pots and pans. When filled though, the bigger pots can be on the heavy side when lifting, so that's something to be mindful of if purchasing for an older person who doesn't have strong arms.
Please note: These are manufactured in China, just as many other cookware brands are. Read below for construction details.

Construction
Exterior
The pans are constructed with a heavy-gauge aluminum exterior (about 1/8 in thick) which is sturdy and durable. Although they are not made with an inner aluminum core (for extra heat transfer) as some of the higher end ceramic cookware is, the heat conductivity is still very good, providing fast and even heating. Still, this is one reason why I think this is just a basic starter set that someone should plan on using only for a temporary period of time — it's not constructed like a higher end set at all. (You'll see why as you continue reading.)
One drawback is that the rims are aluminum and not protected with stainless steel, so the ceramic is prone to chip near the rim if not stored carefully.
The bottoms of the pans are not smooth; they have a spiral beveled bottom with ring coils (to also help with heat conductivity) but may scratch your glass cooktop, so I would suggest that they not be used with a glass cooktop at all. The bottoms are not painted, which is a positive thing in my opinion, because there's no concern about the paint coming off onto your stovetop or coils.

Interior
The interior is coated with a smooth non-stick ceramic layer which is off-white in color and is resistant to scratching. The ceramic is PTFE-free, PFOA-free, as well as cadmium and lead free so you don't have to worry about unhealthy chemicals and toxins being released. PTFE is actually a man made chemical otherwise known as Teflon. Studies have shown that the toxins released from PTFE while cooking at higher temperatures can be hazardous to one's health. PFOA is also another man made chemical used in some cookware to resist sticking and stains. These properties work well for this purpose but they also can remain in the environment and unfortunately, in people. As more people are learning about the hazards of these chemicals, they're researching and discovering alternative non-stick cookware solutions that are much safer, healthwise. Non-stick cookware that is free of these chemicals is proving to be a great alternative.
Handles
The handles on the pans and lids are made of plastic and have a comfortable slip-free coating which is a nice feature. But, in my opinion, there seems to be some design flaws that could really be improved upon. The handles are attached to the cookware with screws and not riveted on. Many folks have complained about the handles coming loose, and in some cases breaking. While some have said they only have to tighten a loose handle once every few months, others have said they have had to tighten so many times that the screws threads have become stripped. This doesn't seem to be an issue with the majority of people, but for others it is quite frustrating.
Another thing to note is that the handles on the Dutch oven and Casserole pots are made partly with metal and have plastic grips; so if you touch the metal portion, it can get very hot. Also, on these same pots, the screws that fasten the plastic grips to the metal protrude underneath the handles, and these screws become extremely hot and can burn you so you have to be careful while handling. Some have also noted that the handles tend to be on the short side and can get very hot when cooking for long periods of time.
The manufacturer's instructions do note to use potholders as the handles on the larger pots are short.
Lids
The lids are made with clear tempered glass and have a plastic knob handle which is screwed on. The cookware set comes with 4 interchangeable lids, with two of them that also fit the fry pans. The tempered glass lids are nice so you can quickly see how the food is coming along. The lids each have one vent hole for steam release to help prevent bubbling over when boiling. Some folks prefer this feature, and others prefer to have the moisture locked in. The handles on the lids are also screwed on and there are issues with these coming loose as well.
Oven/Range Compatibility
The manufacturer states that the pots and pans can be used on electric stovetops, (either flat or with coil burners), gas, ceramic, and glass cook tops, but NOT induction cooktops, as they require either stainless steel or cast iron material. There may be a workaround though, as I have now heard there are interface disks that can be used with some induction cooking appliances to be able to work with aluminum cookware.
The pans are not meant to be used with higher than medium heat. Using medium to low heat is actually recommended. The ceramic finish insures great heat conductivity at lower temperatures. Using higher temperatures will cause damage to the pans such as warping and staining and will also cause the finish to lose its non-stick properties.
The instructions state that the cookware can be used in the oven up to 350 degrees, but it doesn't give a recommended time limit. Since the handles are made of plastic, I personally would not even put them in the oven, as there have been a few instances mentioned by others that the handles started to melt.
These pans should NOT be used in the broiler as it will ruin the ceramic coating and melt the handles.
Performance
The cookware is non-stick and many consumers have found this to be true. Eggs, meats and other foods will slide right out of the pan. The ceramic finish cleans up nicely with hardly any effort, and they are very scratch-resistant. There are some folks that love this set and find it a pleasure to cook with even after a year or two, with no problems whatsoever.
However, there are quite a few online reviews mentioning problems with the set after just a few months. Some of the problems mentioned among reviews are:
• The non-stick finish becomes no longer non-stick
• The ceramic coating starts to chip and wear off in some places
• The interior stains
• The bottoms start to warp or bow,
• The exterior and the bottoms stain brown and is extremely difficult to clean
Cleanup/Care
The cookware typically cleans up quick and easy .There's no need for scrubbing or using abrasive pads; just a soft sponge or cloth with a gentle detergent will do. It's good to dry the pans right after washing, as that will help protect the ceramic coating. Always allow the pans to cool before washing because putting a hot pan in water can cause damage to the finish as well as warping to the pan.
These pots and pans should not be used in the dishwasher. The pressure of the sprayer can cause damage as well as the hot water and the drying heater, not to mention the harsh dishwasher detergents. They really don't take much to clean anyway, so not using the dishwasher shouldn't be much of an issue.
As mentioned in the section above, in the online reviews some have complained that after time the ceramic surface does become hard to clean, stains, starts chipping or becomes damaged. Be sure to follow the instructions for proper use and care to help prevent any problems.
Only heat-resistant plastic or bamboo utensils should be used, metal will scratch the surface.
Be sure to cook using medium heat or lower. Having the heat too high will eventually cause the food to stick to the surface. The pans distribute the heat very well, even at lower temperatures, so no need to dial the heat up.
By the way, using oil or butter is really not necessary for non stick ceramic coated pans, but if you like the flavor of the oils, I'd use just a little bit. The oils can cause staining over time and cause foods to start sticking to the surface. The instructions do not mention the use of oil or butter, but this is something I have noticed with ceramic cookware in general.
If you stack the pans for storage, place a sheet of paper towel in between them to protect the surface.
Warranty
Cook N Home does not appear to offer a warranty. Their website notes that unused cookware can be returned within 30 days, but a few folks have said the customer service is very good and will help you with any issues, including replacing defective items.
Pros
• Non-toxic ceramic surface is great for healthy cooking
• A good variety of pans for the price
• Interchangeable lids that will fit the fry pans
• Makes a good short term starter set for someone on a tight budget
• Colorful cookware set
Cons
• Not dishwasher safe
• Not oven safe over temperatures of 350 degrees
• Aside from the Dutch oven and the casserole , the pans are smaller in size
• Handles tend to loosen and require tightening every so often
• Screws under the handles of the large pots get extremely hot and can cause burns
• After time, the ceramic surface tends to stain and chip, and food starts to stick
• No other pieces available to purchase in this line
Cook N Home NC-00359 Ceramic Cookware Consumer Ratings
The average online rating for this product is fairly strong. Some have experienced favorable performance with the set and were very happy with their purchase.
However, I've noticed that many consumers experienced not so favorable results. And some of the original positive reviews were later changed to negative after a few months of use. One of the biggest issues I noticed was that the ceramic started to either chip, stain, or lose the non-stick effectiveness over time. Also, many folks had issues with the handles either loosening or breaking. In addition, they noted that the protruding screws on the handles get extremely hot, and if accidently touched, would cause burns.
One thing I also noted from several consumers is that they wished there were a bigger size fry pan included, or other sizes available to buy in this line. Unfortunately, at the time of this writing, this line only includes the pieces in this set.
Because of the issues above, I would rate this cookware set at 3.5 and only recommend it as a starter set or for someone wanting something that's toxin-free and pretty, but not planning on using as daily cookware.
Cook N Home NC-00359 Nonstick Ceramic Cookware Price
In comparing this cookware set to others in this price range, you do receive quite a few pieces. There are a nice variety of pans and the lids are interchangeable, so that the fry pans can be covered as well. That's a nice bonus and will save you a little time and money from having to search around for a separate lid that will fit to purchase. Some of the pieces in this set are a little smaller than in other higher end cookware sets . In my opinion this set would be fine for someone cooking for one or two people, although the Dutch oven is a decent size and can be used for cooking up a big pot of stew or chili for a group of 4-6. As mentioned above, this set would be a good starter set in a pinch for the low price, or good for someone on a tight budget who wants a colorful set of cookware with a lot of pieces, and is worried about chemicals, but personally, I'd pay a little more for a set that will hold up long term. I hope this review was helpful to you.