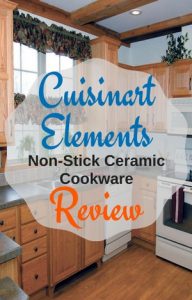 This review is of the Cuisinart Elements Non-stick 10-Piece Set (Champagne), model number 59-10CH. As I conducted my research from several sources online, I was surprised at the range of opinions about this product. It seems folks either loved or hated the cookware and I was curious to find out why, especially with a top brand like Cuisinart. Read on to learn all about this cookware set, and then finally what my rating is for the product.
Cuisinart Elements Ceramic Cookware Set Features
This 10 piece ceramic cookware set includes a nice variety of pans and sizes. The color is a brownish gold color, almost with a metallic look. It's a very pretty neutral color and will go with just about any kitchen color theme.
Set Includes:
1½ Qt. saucepan with lid (bottom diameter 5 ½, top diameter 6 ¾", 3 ¼"H)
2½ Qt. saucepan with lid (bottom diameter 7", top diameter, 8 ½" 3 ½"H)
3 Qt. saute' pan with lid (bottom diameter 8 ½", top diameter 10", 3"H)
8 Qt. stockpot with lid ( bottom diameter 8 ½", top diameter 10", 7 ½"H)
8″ fry pan (bottom diameter 6 ¼", top diameter 8 1/2 ", 2 ¼"H)
10″ fry pan (bottom diameter is 7 ½", top diameter is 10", 2 ¼"H)
What I really like about the selection of pieces in this set is that the stockpot is a larger size – one that you won't find in many other sets.
I also like that the lids are interchangeable and will fit the two fry pans as well. It's a very handy feature! Many cookware sets do not include lids to fit the fry pans.
The pans are medium-weight with a substantial feel—not too heavy, and not too light where they would have a cheap feel.
Construction
While these pans are made in China, which I know can be a turn off to some, I've actually tested them out and compared them to one of my own frying pans (which might also be made in China) but I thought the Cuisinart set was really well made and feels very durable. I get that a product made in China carries a stigma of being cheaply made but I have to think that some brands are more selective about their manufacturers than others and Cuisinart seems to have managed their process well as I think this set is built to last.
Exterior
This cookware is beautifully styled with a highly durable aluminum exterior.  Although the exterior is not non-anodized aluminum, which is what some of the more expensive non-stick cookware exteriors are made with, there is an added high-gauge aluminum inner core that sits between the exterior aluminum and the interior ceramic coating.This inner core is what provides excellent heat distribution. It heats food quickly at lower temperatures.The exterior surface on this set is very sturdy, durable, and users are pleased with it.
Interior
The interior is coated with PTFE/PFOA-free and petroleum-free Nano-ceramic for healthy cooking.
PFOA and PTFE are chemicals which have the potential to release toxic gases into the air and into your body. PFOA, is short for perfluorooctanoic acid, is a chemical that causes adverse effects and has shown developmental problems in laboratory animals. It can remain in the human body for a long time potentially causing harm. PTFE is a synthetic polymer that when heated to temperatures above 350 degrees, begins to degrade, releasing gaseous chemicals that can cause flu like symptoms and damage to the lungs when inhaled.
This is why it is important to consider cookware that is free of these materials. NANO Ceramic properties create an extremely durable non-stick surface that's ideal for healthy cooking. The nano ceramic coating (Ceramica©) used by Cuisinart is manufactured in Italy to conform to all USA and EU (European Union) Restriction of the Use of Certain Hazardous Substances standards and safety codes.
The Ceramica surface is an attractive bright white, which makes it nice and easy to see how the cooking is coming along. It is flat on the bottom, so your eggs will stay in the center. It's scratch and stain resistant, and is also non-stick, even without the use of butter or oils. The pans are rimmed in stainless steel to protect the ceramic edge from chipping, and also gives the set a classy look.
Handles
The pan handles are designed well, keeping functionality in mind. They are made with slip-free silicone and have riveted grip handles that stay cool as you cook, which is always a nice perk. The handles are somewhat long, but a nice feature is that they are crafted with a metal insert so that you're able to hang your cookware without any scratching, or possible stretching or damage to the handle by the hooks over time. Hanging the pans rather than stacking them in drawers or on cabinet shelves can help prevent scratching. As an added bonus, hanging pots and pans can provide an attractive accent to your kitchen décor.
The handles are riveted on and have a solid connection to the pan, so you won't have to worry about them coming loose—a vital safety feature to consider. One thing to note about riveted attachments is that they themselves are not non-stick and can be difficult to clean around over time. One tip would be to use a toothpick around the edges of the rivets on occasion to help prevent any buildup.
Lids
The lids are made with clear tempered glass with a stainless steel rim, and have a handle that is riveted on. The handle is stainless steel with a nice arch and has a silicone grip at the top for ease in lifting. The lids have a nice tight fit which is really important if you want to make sure none of the moisture escapes the pot. (These lids do not have a steam release hole on top.)
There are four lids, one for each of the saucepans and one for the stock pot. One thing I love about this set is that the four lids are interchangeable and will also fit each of the fry pans. I also like that the lids are clear so that you can see how the food is progressing in the pot.
The pans can be used on electric stovetops (flat surface or coil burners), gas, ceramic, or glass cooktops. The pans have a smooth flat bottom surface and are not riveted so they won't scratch your cooktop.
Cooking with high heat is not recommended or necessary. Using medium or low heat is recommended in the user manual. The pans will heat quickly and the heat conductivity ensures even cooking at lower temperatures. Using higher temperatures than medium can cause staining and damage to the non-stick surface; eventually causing food to stick and the pan to warp.
Please note: these pans are NOT to be used for induction cook tops! Induction requires steel or iron for conductivity. Aluminum will not work and can cause damage to your cooktop as well as the cookware.
The pans can be used in the oven only up to 350 degrees, BUT for no more than 20 minutes… This can be a serious drawback, unless you have another type of pan for those occasions when you need to keep it in the oven longer.
Performance
The manufacturer promises a non-stick food release upon cooking. I have tested these pieces and indeed, my eggs and other foods can definitely be cooked without any butter, spray or oil and they did slide right out of the pan!
The food tastes better and is juicier too, than when cooked in other types of pans. Be sure to use a medium or lower flame or setting though; it'll still cook hot and even, using the lower settings. Even burned cheese and chocolate wash off easily.
If you're concerned about the white ceramic staining, it hasn't yet for me-even when cooking spaghetti sauce!
Cleanup / Care
Cleanup is a breeze with this non-stick ceramic cookware set. Simply use a soft cloth and a little dishwater with gentle detergent and the pans clean without scrubbing. (No need for abrasive cleaners or pads.) Then wipe dry with a towel right away to help protect the coating. Takes hardly any effort!
One thing to note: these pans are NOT recommended for dishwasher use. The reason is because damage could be caused by the pressure of the sprayer, or the higher water / drying temperature; not to mention dishwasher tablets and detergents can damage the pans. As handy as it is to just put the pans in the dishwasher, they're so easy to clean anyway that this can essentially be a non-issue.
Some folks have complained in their reviews that after time the ceramic surface became stained, chipped, or damaged. Be sure to follow the instructions in the manual for proper use and care to prevent any problems.
Here are some tips:
To care for your Cuisnart Elements cookware, be sure to keep on medium heat or lower when cooking. Having the heat too high will cause the food to stick to the surface.
I have had great results with food not sticking, by pre-heating the pans first before adding food.
By the way, this cookware does not have to be seasoned before use. Doing so may actually harm the pans.
Oil or butter is not needed to reduce sticking, and this may be the reason for some complaints of ruined cookware.
It is recommended that nylon or bamboo utensils are used with this cookware. Metal utensils will scratch the surface.
If you care for the set correctly according to the instructions, they should serve you well for a long time.

Oven / Range Compatibility
Warranty
The pans have a limited lifetime warranty. If a product proves to have a manufacturer defect, the item will be replaced over the life time of the item. This warranty excludes damage caused by accident, misuse or abuse, including damage caused by overheating, and it does not apply to scratches, stains, discoloration or other damage to external or internal surfaces that does not impair the functional utility of the tool/gadget. This warranty also expressly excludes all incidental or consequential damages.
Pros
Safe & healthy cook surface. Non-toxic!
Foods taste great cooked in these pans
Easy cleaning
Nice range of sizes
Large 8 qt. stock pot size
Interchangeable lids that will fit the fry pans
Cons
Not dishwasher safe
Not oven safe over temperatures of 350 degrees and then limited to 20 minutes in oven.
After time, the surface may stain or food may start to stick – but this could depend on care & use
Cuisinart Elements Non-stick Cookware Consumer Ratings
I found the online ratings on average to be above 4 stars. I would rate this product 4.5 stars. There have been some that have said the pans over time had begun to stain and chip, and that the surface was no longer non-stick; but my question would be, did they take care of the pans properly? Did they use higher temperatures when cooking? Did they put them in the dishwasher? All of these things can cause the pans to wear.
There have also been others that have had excellent results with the cookware after using it daily for a long period of time. They also noted that they followed the guidelines in the manual for care and use.
I believe this set will hold up well over time and will be thoroughly enjoyed by the user if the instructions are followed correctly and the cookware is well taken care of.
Cuisinart Elements Non-stick 10-Piece Set Price
In my opinion, I think the price is very reasonable for the variety you get with this ceramic cookware set. I like that the set includes the interchangeable lids that will fit the two fry pans. Many sets do not have this feature, and you won't have to purchase a separate fry pan and lid. For myself, I always fry my eggs sunny side up with the pan covered, to give that nice top coating to the eggs; so I appreciate the fact that I wouldn't have to spend more money to accomplish this.
This cookware would make for an excellent starter set, and would also be great for a young family. For a larger family the sauce pans and the saute' pan may be a bit on the small side.
The set is medium weight; so not too heavy, but for a person with arthritis or one who is handicapped, a more lightweight set may be easier to work with.
This set is also available in red and blue according to the manufacturer site and the red is available on Amazon as well.
I hope this review has been helpful to you in deciding if this cookware set will fit your needs.